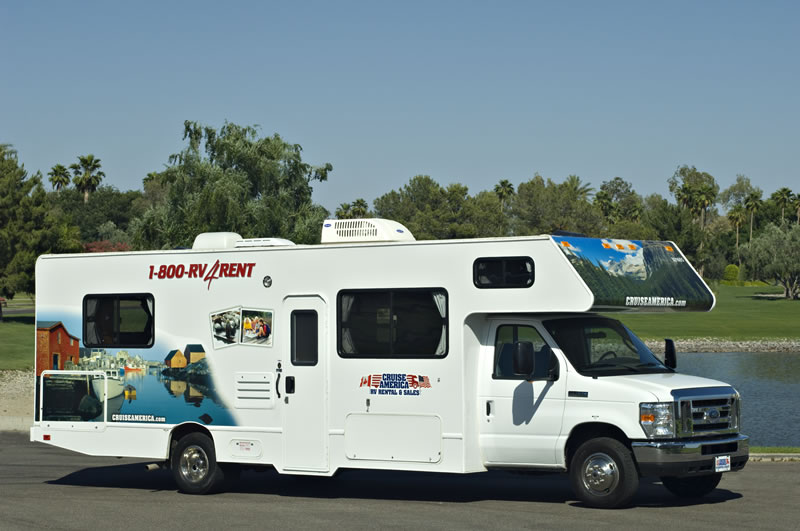 FULLY EQUIPPED FOR YOUR COMFORT WITH MICROWAVE, FRIDGE, FREEZER, CONVECTION OVEN, GAS RANGE, DINETTE, PRIVATE BATH, SHOWER, GENERATOR, AIR CONDITIONING, SKYLIGHTS, AMPLE STORAGE AND MORE!

THE KIDS WILL LOVE THE LARGE PANORAMIC WINDOWS
FOR THE ULTIMATE IN SIGHTSEEING!

ALL UNITS CLEAN AND PROFESSIONALLY MAINTAINED!

ACROSS THE COUNTRY 24/7 TRAVELER'S ASSISTANCE FOR PEACE OF MIND.

ALL UNITS ARE NON-SMOKING.

PET FRIENDLY MOTORHOMES AVAILABLE TOO!

NO HIDDEN CHARGES.

ALL INSURANCE INCLUDED AT NO EXTRA COST TO YOU.

RENT WITH US AND GET 10% OFF YOUR STAY AT ALL
KOA KAMPGROUND LOCATIONS!
WHY TAKE CHANCES WITH YOUR NEXT VACATION?
RENT FROM NORTH AMERICA'S LARGEST RV RENTAL COMPANY.
WITH AN AVAILABLE FLEET OF OVER 4,200 MOTORHOMES AND 37 YEARS OF EXPERIENCE, WE KNOW WHAT IT TAKES TO MAKE YOUR NEXT VACATION A FUN AND ENJOYABLE EXPERIENCE FOR ALL!
CONVENIENT PICKUP AND DROP-OFF AT OUR EAST DUNDEE RENTAL CENTER!

CUSTOMER SERVICE IS #1 WITH US!

CALL TODAY!
(847) 426-3300
895 Richardson Rd. Suite 210
East Dundee, IL 60118